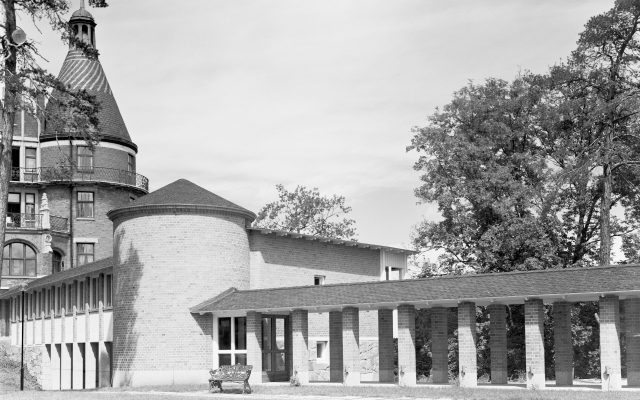 In the outskirts of Stockholm, in the beautiful archipelago, Vår Gård lays. In a mixture of old grand artichture and new design, Vår Gård houses large companies such as H&M and Volvo for their conferences. What not many people know is that Vår Gård is open for the public. It offers everything from a relaxing sauna, to an unique art exhibition, to overnight stays at their hotel. How come people does not know this?
"Brief" – Problem
The market for conference centers is a segment that all in all has not changed that much in the last decade. The volume of visitors has more or less been the same though the prices have dropped. Conference centers are also quite vulnerable to national or global economic changes, since companies rarely invest in larger conferences in recession. Because Vår Gård's core business is conferences, they are severely affected when the economy changes and we go into recessions such as the one we're in right now. Therefore Vår Gård needs to increase the amount of private visitors and make them at least 20 percent of the revenue.
Process
During our research we discovered that the knowledge about Vår Gård was low, even in the nearby neighborhood. Vår Gård therefore needed to increase the awareness that they are open for the public and what they have to offer. What we needed to create was an umbrella to unify all of Vår Gård into one brand. We conducted a quantitative study in its nearby surroundings, to collect as much data as possible. We asked for people's opinion of Vår Gård, what they knew about it and the reasons they would visit such a place. The insights we got was that people's perception of Vår Gård was misinterpreted and that people knew little about their offer. Our insight was that to be able to communicate to both companies and private visitors in the future, Vår Gård needed intelligibility and guidelines.
Solution
Our strategy was to create a brand book that focused on how to communicate, with the right strategy as a foundation. Vår Gård should be able to use this brand book regardless of target group and platform. We created guidelines and bullet points that is the foundation of Vår Gård, and their communication. The platform and strategy is built on the research and studies we made. We created target groups out of personalities instead of genders, ages, demographic etc. These personality types could be applied on individuals as well as groups of people. They are based on interests and inducements.
We also created different themes: Food, culture and nature based on Vår Gårds offer. The themes could be combined and applied to the target groups' personalities.
Content of the brand book
Introduction
Chapter 1: Vår Gård
What a brand book is, and why you need it
Vår Gårds history
Vår Gård todayKey words
Target groups
Themes
Brand essence
Chapter 2: To communicate with pictures
To communicate with pictures
Guidelines and tonality
Themes and imagery
Chapter 3: To communicate with words
To communicate with words
Tips and tricks
Chapter 4: Graphic manual
Font and typography
Color palette
Contrast
Logotype
Chapter 5: Examples of communication
Ideas
Examples
Vår gård is to use this brand book in all of their communication inhouse and external to create an united brand.